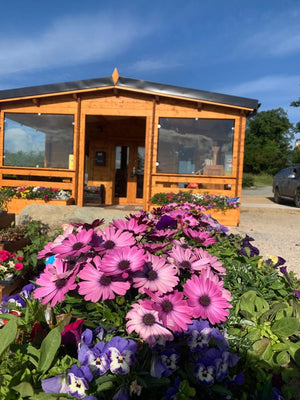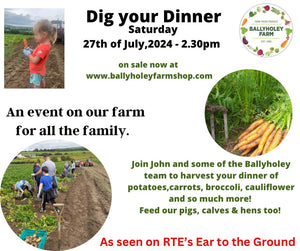 Dig For Your Dinner
A simple concept, 1 ticket.......1 family . You and your family come out to our fields and harvest your own veg to fill your crate! Our baby calves ,pet pigs and hens will also make an appearance on the day!
Buy tickets
Welcome!
Welcome to our online store .You can shop online here for Click and Collect from our Farm Shop or at the Letterkenny Real Food and Farmers Market. 
BAKE N JOY BREADS ONLY AVAILABLE ON SATURDAY 
Shop Now!
Click and Collect
****Orders must be placed by 3pm on the day before collection *****
Orders can be picked up from the Farm Shop on a Monday,Wednesday,Thursday, Friday or Saturday, or from Letterkenny Real Food and Farmers' Market on Saturdays from 9am-1pm; just pop the date and time you want to collect your order in the "Special Instructions for Seller" box in your cart!
Honesty Box
Our honesty box system is set up at the front of the shop when the shop is closed, so no matter when you're passing by, our vegetables are available 24/7.
Call in!
Our Farm Shop is open here on the farm every Monday, Wednesday, Thursday,Friday & Saturday, so drop in and pick up what you need. We're also located at Letterkenny Real Food and Farmers Market on the Port Road, Letterkenny each Saturday from 9am-1pm. 
Did You Know?
We also stock locally produced Jams and Chutneys, Scones and Soda Bread, Local Honey and much more quality Irish Artisan produce......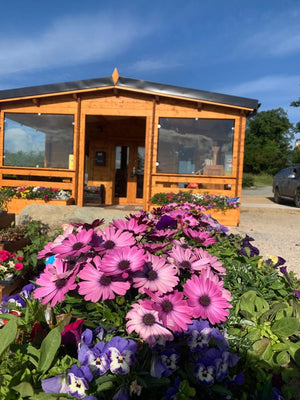 Contact Us!
Call the Farmshop on 087 6924337 or get John on 0876955121.
You will find us on Facebook and Instagram. 
Email:ballyholeyfs@gmail.com